Looking for some of the best bars in Liverpool? You're in the right place!
Everyone loves a good drink every now and then and we're known in Liverpool for having some of the best night life around. Whether you're looking for somewhere to enjoy a tipple mid-week, somewhere to let your hair down at the weekend in the sun or looking to celebrate something special, we've got it.
We've put together a list of what we think are some of the 'Best Bars in Liverpool' that serve up a great drink and amazing atmosphere. It's always 5 o'clock somewhere, right?
 
Outdoor bars in Liverpool
Summer is here and we know you'll be looking for places to enjoy a tipple outside.
Subrosa
Baltic Triangle
Subrosa down in the Baltic Triangle is the perfect place to head along to when the sun is shining. With long tables to sit at under bus shelter style structures, lots of fresh air, great beers and food and music to tap your toes to, head along to soak up some sun.  
Botanical Garden
Baltic Triangle 
Gorgeous in the summertime, Botanical Garden is a real sun trap. Serving frozen margs, watermelon gin slushies, gins in tins and a delicious selection of spirits and ales .. oh and did we mention the pizza? 
Kazimier Garden
Ropewalks
A little space on Seel Street with a big personality. Kazimier Garden is the bar belonging to the artistic and creative organisation, Kazimier. The outdoor bar features disco balls, festooned lighting, loads of plants and remnants of previous Kazimier commissions.  There's live music and DJs regularly as well as a little kiosk to get food. The venue is card only.
Spanish Caravan
Ropewalks
Just off Seel Street is Spanish Caravan. The bar has a big outdoor seating garden featuring long bench tables and smaller more intimate tables. The gravel floor and surrounding plants make it a delightful place to enjoy an Aperol Spritz and some of their regular live music. 
Pins Bar - Rooftop
Ropewalks

Pins on Duke Street has a huge indoor space with bowling, shuffle boards, karaoke and regular live music as well as a restaurant - but it also has a massive roof terrace that's the ideal place to be when the sun is shining for some cocktails.
Goodness Gracious Roof Garden
Liverpool Waterfront
Goodness Gracious Roof Garden has the best close up views of Liverpool's Three Graces, the Royal Liver Building, Cunard and Port of Liverpool building. The suntrap is a relaxed setting with large planters, wooden seating and great summertime vibes.
 
Liverpool bars with a twist
Little Hardware
Ropewalks
Little Hardware is what many would call a 'hidden' gem, with an inconspicuous entrance, only marked by a rusty wheelbarrow above the door. The theme continues inside the speakeasy style bar with cocktails served in various hardware themed vessels.
Golf Fang
Baltic Triangle
For a night with a difference head down to Golf Fang to experience some of the best crazy golf around. The graffiti adorned warehouse is home to 18 holes, a full stocked bar with equally crazy cocktails and a brilliant playlist. It's perfect for first dates, a night with your mates or some party celebrations. 
Alcotraz
Ropewalks
An interactive theatre experience awaits at Alcotraz. Wear your bright orange jumpsuits, sneak your spirit past the prison guard and take part in challenges to aid your escape from Alcotraz. Pre-booking is required as this is a paid for experience.

NQ64
Ropewalks
Head down into the basement of NQ64 to turn your hand to a whole host of retro arcade machines. From the classics like Pacman to Dance Machines, Nintendo and Guitar Hero, you could easily spend an evening playing the night away with a signature cocktail or two. 
Point Blank Shooting
Liverpool Waterfront
Point Blank Shooting on Castle Street offers a simulation shooting range that allows you to compete in a series of games in your own booth. The experience can be enjoyed with cocktails and all your favourite American dishes.

Arcains
Baltic Triangle
Head over to ArCains in the Baltic Triangle for three floors of all the arcade games you can think of. As one of the biggest arcades in Europe you'll have no trouble finding something to enjoy here.   
The Oracle
Ropewalks
The Oracle on Duke Street is anything but ordinary. Head inside the intimate cocktail bar to enjoy a tipple or two and a bit of close up magic at your table. It's the perfect date night venue. 
Lane 7
Ropewalks
 
You can't go wrong with a bit of bowling and Lane 7 at Clayton Square. It's a good choice for a few games with your mates whilst enjoying a couple of drinks. If you're still up for a bit of friendly competition then there is also American Pool, Ping Pong, Beer Pong and Darts to enjoy too. 
Roxy Ballroom
Ropewalks and Cavern Quarter
We don't have one but two Roxy Ballroom Venues in Liverpool! Perfect for a big night out for some drinks and party activities. Both locations have a range of games to play including Crazy Pool, Bowling, Roxy Golf, Shuffleboard, Beer Pong, Ping Pong and Pool Tables.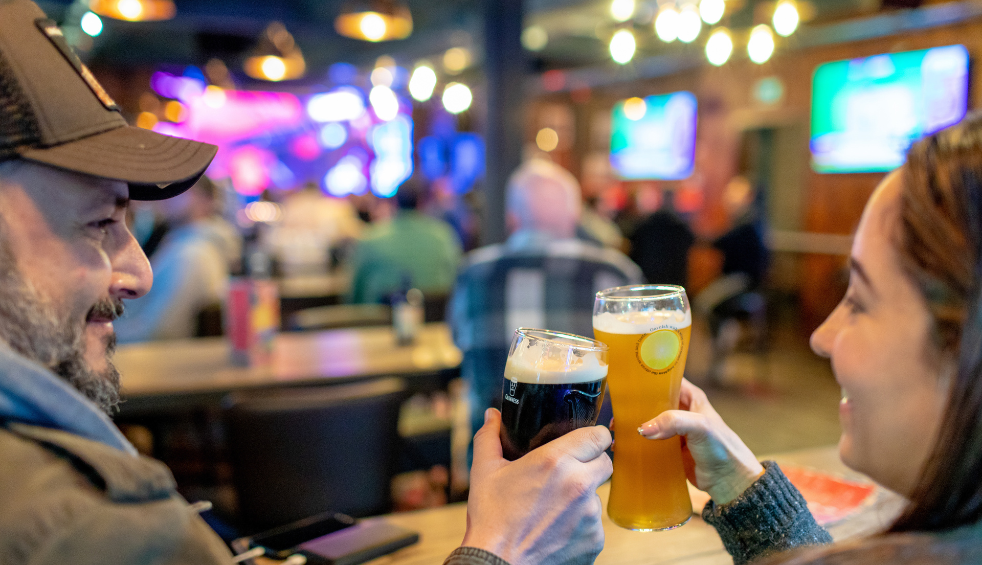 Liverpool classics
Heebie Jeebies
Ropewalks
A Liverpool institution, all the best stories start with a night in Heebie Jeebies, affecftionately known as Heebies. There's live music every week, an outdoor courtyard and its open late for a dance.
La'go 
Ropewalks 
Another Liverpool legend is La'go - known for its cheap drinks, witty, scouse specials board messages and playing all your favourite tunes since 1996. Open every day from 12pm to 4am. 
Alma De Cuba
Ropewalks
An 18th century church building that is now the home of a latin inspired bar and restaurant that's been popular in Liverpool since opening after a period of disuse from 1978 to 1990. On weekends there's latin dancing, djs and their iconic petal shower. There's also special events like Samba Afternoon Tea and Sunday Roasts with live music. 
Shipping Forecast
Ropewalks 
The Shipping Forecast is a firm Liverpool favourite and the birth place of a very popular bingo related quiz… The Shipping Forecast is a cosy pub, with a little outdoor seating space. Its a place you can go for lunch, enjoy a few drinks with friends or participate in their upcoming events.
Cavern Club
Cavern Quarter
This place really needs no explanation, but any visit to Liverpool wouldn't be complete without even a short stop off at the Cavern Club. The club made famous by those four lads from Liverpool. The Cavern is open every day from 11am with live music everyday.
Motel
Ropewalks
The dive bars saying is 'get down, get loose.' The small, dimly and neon lit bar is famous for it's 'Big Cup' American style drinks and Dive Bar Karaoke with live band. Free entry open late.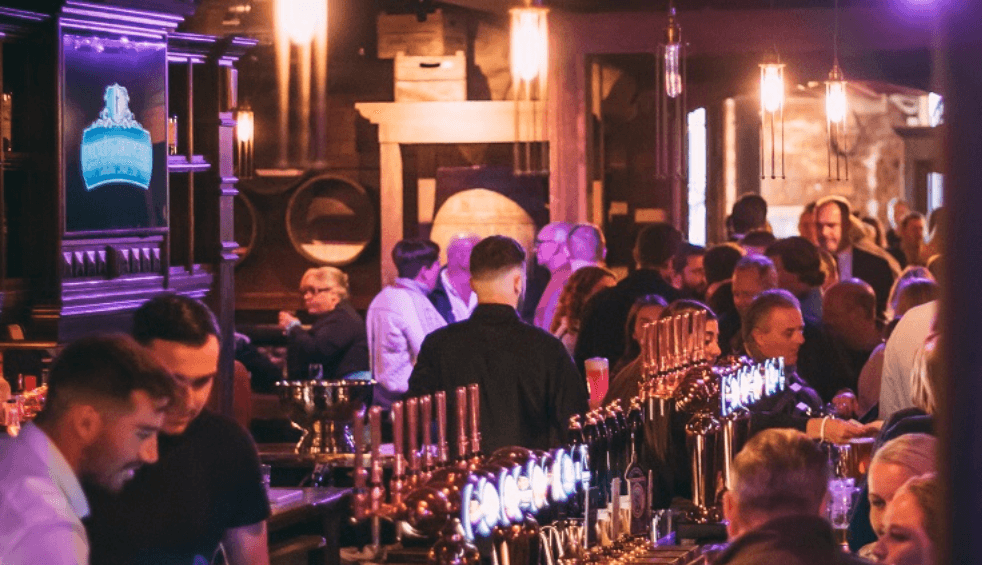 New favourites in Liverpool
La'Aperitivo 
Ropewalks
La'Aperitivo on Bold Street is a dimply lit, 80s style decor bar selling cocktails, small plates and regularly hosts live music and dj sessions.
The Long Shot
Liverpool Waterfront
Cocktail bar and hangout The Long Shot is the perfect place to enjoy a bit of live sport, cocktails, craft beers and 'monster' sandwiches for an evening out down at The Royal Albert Dock. 
The One O'Clock Gun
Liverpool Waterfront
The One O'Clock Gun at The Royal Albert Dock is the perfect place to pull up a chair and enjoy a drink whilst taking in the beautiful views out across the dock. They also have a selection of proper pies and sandwiches on the menu, just in case you fancy something to eat too. 
Einstein Bier Haus
Ropewalks
Einstein at Concert Square is ideal for watching the football. With a whole host of screens, hearty food, great bier and live music, head along with your mates for a night out. 

Hobo Kiosk
Baltic Triangle
Head down into one of the friendliest little pubs in the Baltic Triangle at Hobo Kiosk. The quirky bar is perfect for a quiet drink from their carefully selected bar and a board game or two. You'll be in fine company in this little bit of Liverpool bohemia. 
Punch Tarmeys
Baltic Triangle
Liverpool's biggest Irish bar, Punch Tarmeys is in Liverpool's Cains Brewery Village. A great place to watch live sport either inside or in their massive courtyard. There's also live music every weekend!
Phase One 
Ropewalks
From the owners of the Jacaranda, Phase One is an indoor bar and courtyard that gives spotlight to musicians both established and rising stars. 
Petit Cafe Du Coin
Chinatown
A taste of France in Liverpool City Centre. Petit Cafe Du Coin is a pretty and quaint bar on the corner of Berry Street. A lovely relaxed atmosphere joined by jazz music, specialist wines and cocktails.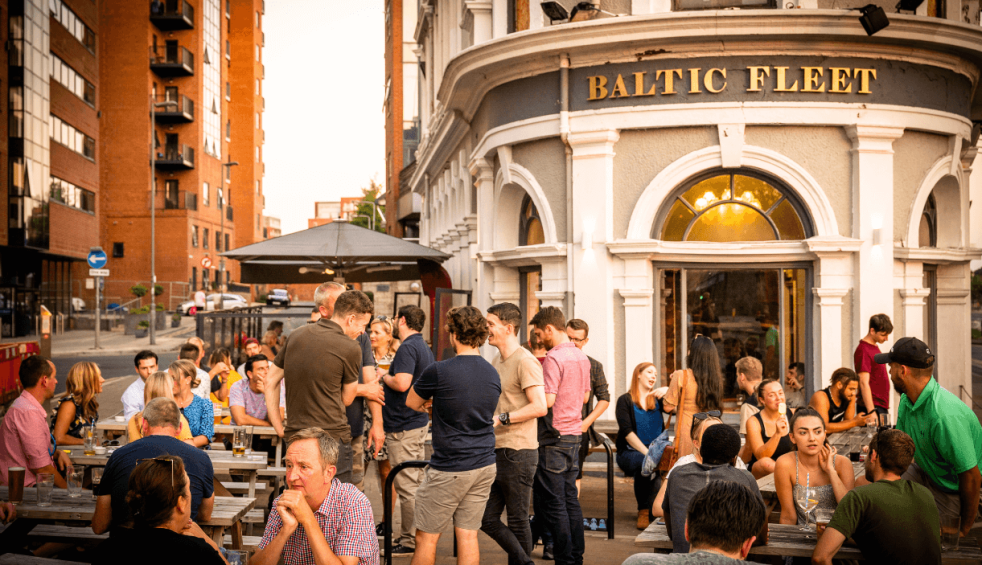 Pubs and Breweries in Liverpool
Liverpool Gin Distillery 
Liverpool Waterfront 
Located on Castle Street, Liverpool Gin Distillery is a relaxed bar that serves all things Liverpool Gin including every flavour with its recommended accompaniments. The bar also runs regular gin making workshops in their studio upstairs where you can create your own flavoured gin whilst sampling the professionals'. Booking is required for the workshop. 
Love Lane Brewery 
Baltic Triangle
You might have tried a pint of Love Lane before, but have you ever had a pint of Love Lane at Love Lane? Now you can. The large, airy venue has an extensive offer of freshly brewed beers and gin, tours of the brewery and delicious food from their kitchen featuring sour dough pizza and dirty fries. 
Blacklodge Brewery 
Baltic Triangle
Open from Thursday to Sunday, Blacklodge is is a small-batch brewery. Their tap room also hosts regular events including beer tasting, brunch and beer festivals. 
Pogue Mahone
Ropewalks
Pogue Mahones comes from the team behind Motel. An authentic Irish pub on Seel Street with a warm ambience serving up the best Guinness in town, live music, live sports on TV and great craic!
The Ship and Mitre 
Dale Street
The Ship and Mitre is known in Liverpool for having the biggest selection of ales and continental beers. It's a traditional pub with the downstairs bar reflecting the inside of a ship. The pub was built in around 1935 and its current name is a combination of the pub's two previous names, The Ship and The Mitre. 
The Baltic Fleet 
Baltic Triangle 
A Grade II listed building, located on the periphery of Liverpool's Baltic Triangle. It's a traditional dock road pub that opened in the mid 19th Century. The name comes from the Siberian Whaling ship crews that used to frequent there. The cellar is used to brew ales and the venue boasts a rotation of 136 beers.
The Grapes
Georgian Quarter
The Grapes on Roscoe Street is a popular boozer in Liverpool Georgian Quarter. There's colourful fairy lights, wooden panelling, benches and a well stocked bar. Upstairs there's an outdoor space on the roof. 
Ye Cracke
Georgian Quarter
Another legendary, well worn traditional pub in Liverpool Georgian Quarter. Famous for being popular with the Beatles star John Lennon. 
The Bridewell 
Ropewalks
The Bridewell is a former prison and the character of this can be seen throughout the venue. As well as an outdoor courtyard, there are various rustic booths inside the character filled pub.
Well there you have it, some of the best bars in Liverpool. Don't forget to tag us in your posts and use #VisitLiverpool to show us living your best life!