Next time you're looking for a good cup of tea in Liverpool, look no further than LEAF on Bold Street.
Born out of the love of tea and music, the tea shop turned gin specialists, brunch hotspot and music venue has everything you could ask for under one roof. With the goal of bringing quality loose leaf tea from around the world to the city and offering a tasty food menu, it's the perfect place to pull up a seat in Liverpool. There are further LEAFs on Smithdown Road and West Kirby. 

With something on offer from breakfast through to dinner, with menus to suit every mood, LEAF has it all. 

Stocking over close to 100 rare loose tea leaf teas from across the globe, the team at LEAF have won Great Taste Awards for several of their blends and are wonderfully natural, only sourcing the finest leaves to create the unique blends. 

And if you're after something a little stronger, their gin menu is something to be admired too. 

In November 2023, LEAF are celebrating 15 years in Liverpool, including opening the brand new Little LEAF at ONE FINE DAY. Having become a bit of an institution in the city, we wanted to sit down with their co-founder, Natalie Haywood, to find out how it all began and the secret to their success. 


Can you give us a bit of background on yourself and how you came up with the concept of LEAF?

I've always been in hospitality. Before starting LEAF I worked as a marketing manager for a chain of independent bars and restaurants in Liverpool for three or four years. Before that I had a music agency that used to provide DJs and live music to bars and restaurants, then I was a waitress and a bar back and all of these sorts of things.

When I started LEAF it was just because I'd stopped drinking coffee and I wanted to have a nice tea experience out of the house. I couldn't work out why I couldn't get a really good cup of tea even though it's the nation's favourite drink!

I felt a little bit disillusioned with the formula of high street coffee shops and wanted to do something a bit more imaginative. I wanted to bring tea shops into the 21st century; less doilies and grandmas, and a bit more cool.

Starting as a loose leaf tea shop was exciting but then it became a lot more than that. The intention was always to have a curated programme of events and the offer has become much bigger over the years. But it was always going to be a tea shop with cool things happening - that was always the idea.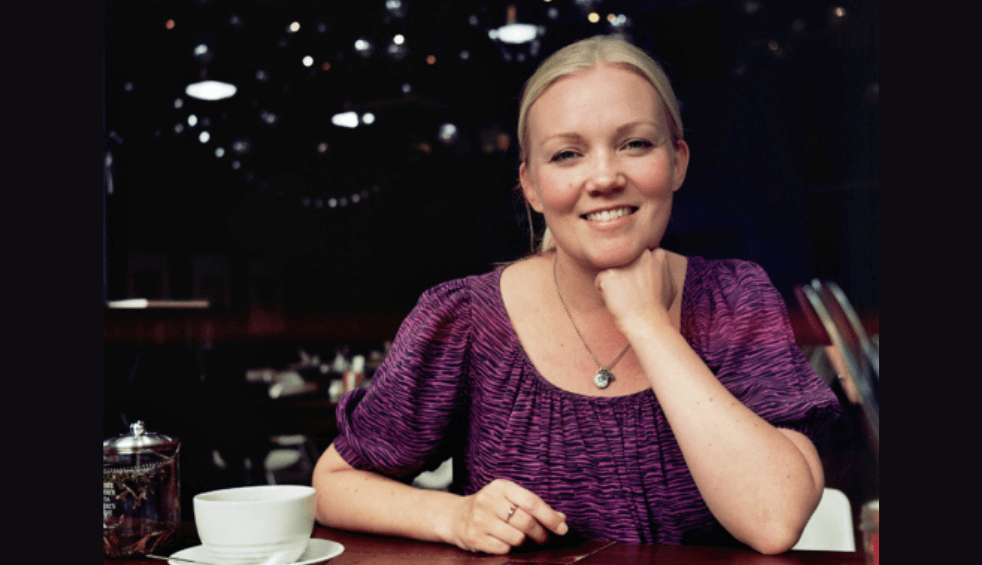 Tell us about the early days of LEAF.
Our very first venue was basically a bit of a trial, like a dip-your-toe-in-the-water pop-up situation. It started with a trip to IKEA and we thought, 'let's just see if anyone's interested in this idea'. 

We realised quite early on that people loved it so then we moved down to Parliament Street in the Baltic Triangle and it felt like we were in a bit of a cool, creative scene down there that really played into the idea of us being a creative hub with loads of interesting things happening.

Then we found this building on Bold Street. It was a massive building that had sat empty for around a year and it just felt like it had so much potential because it's so big, really flexible and the street didn't have lots of chains so I felt like we could put an independent stamp on it. 

Everyone told us we were mad because it was such a big building but at that stage it was a bit like, go big or go bust, so we threw the kitchen sink at it. That was 2010 when we got here. I never thought I'd be in it for 15 years - and counting.
LEAF isn't just a tea shop, but also a music venue and event space - tell us more about that. 
Music has always been at the heart of the offer at LEAF.  We've always been really passionate about music so even when we were in Parliament Street we had open mic nights, had really interesting playlists and were surrounded by musicians and artists in the area. We've had great relationships with promoters and artists in Liverpool since then and we still work with those same people now in our current events at the Bold Street venue. 

It's a lovely intimate gigging venue and, again, the same way we didn't want the tea shop to be old-fashioned, we wanted it to be a place to watch a gig - and have a cup of tea.

Then that led into book signings and events from interesting people. We've had some great people in the venue like Mick Fleetwood, George Ezra has played here and Tom Grennan has played here.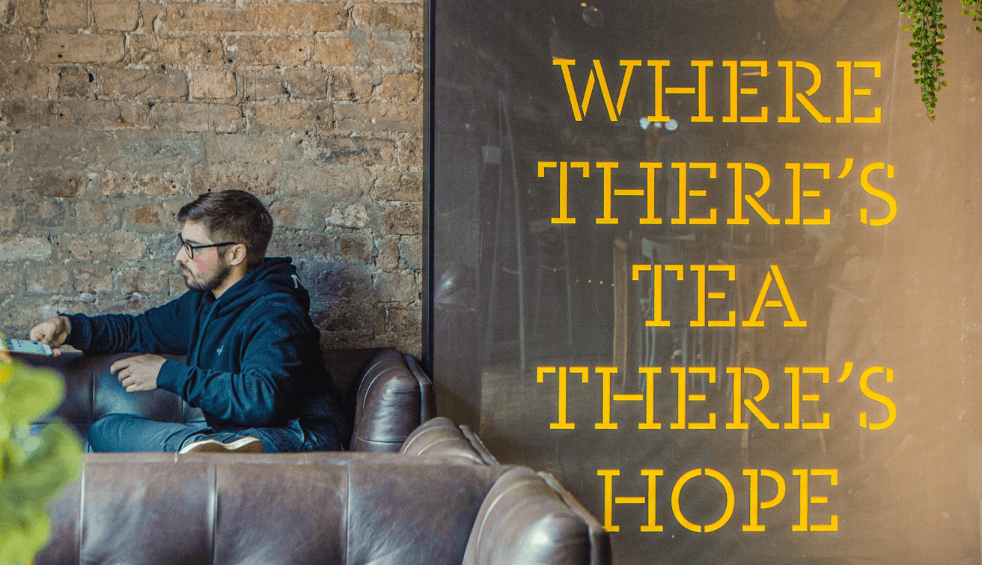 Do you have any special highlights from over the years at LEAF?
There's loads! In our early days one of our chefs, Claire Lara went on to win Masterchef. That was a real highlight. Another one, we had a chess competition and RZA from Wu-Tang Clan came and played the winner of the chess competition. We've made a gin which went on to win a world spirit competition award; some of the awards we've got for the teas and the gins have been real highlights. 

Then there's The Yamen Cafe menu discovery. We did some renovation work in the office in April 2021 and needed a new ceiling put in, the builders were working away and this menu just fluttered down. It was a menu for The Yamen Cafe dating back to 1913. It was a vegetarian focused cafe that was once in this building which felt really in line with us. We went on to recreate dishes from the menu for a special event which was incredible. That was a highlight, there's been so many because it's been such a mad journey. 

The thing that we like the most though is the people and customers we've met along the way - we still have the same regulars from when we started.
How are you celebrating your 15th anniversary?
We have got 15 days of celebrations so there are a range of things happening. Our very first Pudding Club was in Parliament Street 15 years ago and was created by Claire the MasterChef winner, she has been back working for us and is hosting a series of special Pudding Clubs for the anniversary. The final one is this Friday 17th November at our new venue, Little LEAF at ONE FINE DAY. 

We're all very excited to open Little Leaf as part of the celebrations for our 15 years down in ONE FINE DAY on Old Hall Street. It's a miniature version of LEAF with a slightly condensed menu of breakfast and lunch for people to enjoy. That's the focus of our 15 years, it's a nice celebratory occasion. The back space will still be used for events and special occasions, and we also have got OH ME OH MY too for weddings and larger scale events.

There's been lots of the usual bits involved like open mic nights, a craft market and lots of the LEAF favourites going on in November. We've got a new tea blend called 'Stronger English Breakfast' and the tagline is 'Going Strong for 15 years' which is an anniversary edition.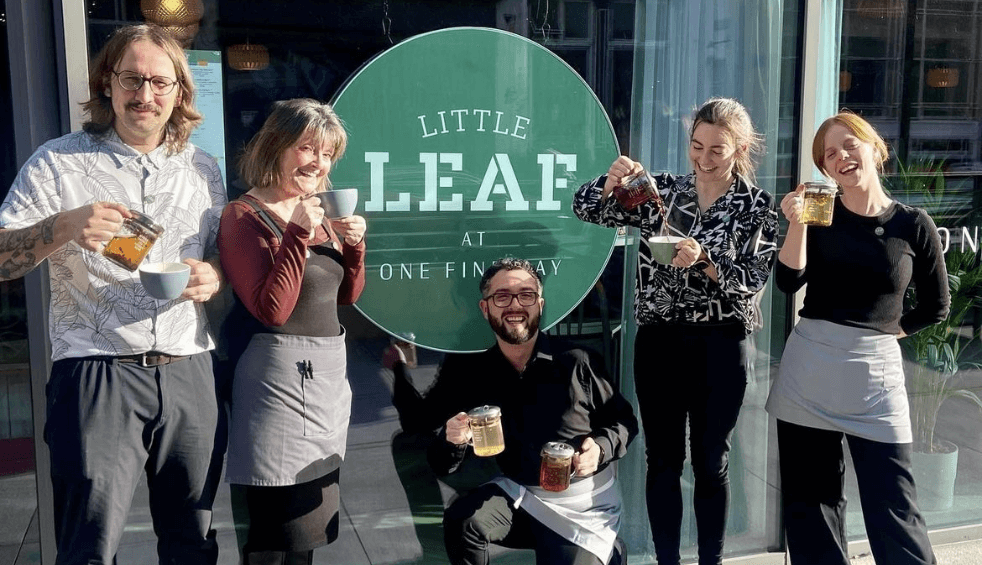 Where do you see the next 15 years of LEAF going?
We're quite enjoying the online shop because that's a whole different business -  selling teas to people around the world and getting the brand out there feels very much like it's something for us to continue with for the future.

It will be interesting to see if Little Leaf is something that we can put elsewhere as a smaller version of the venues too. You don't really need the overheads and the big venues so we might be able to distil it down into something smaller and cuter. It might work for the commercial districts or other shopping districts and that's an interesting test.
And then we don't know, because we never have a grand plan, we're just really organic in our approach. I've just enjoyed reflecting over the last few years on who we are, what we do and why we do it and I think we just need to continue to do what we've done for the last 15 years. Keep things quite consistent, not follow trends. People tend to say, 'You're a bit of an institution' and I'm really pleased about that because I used to look towards The Everyman Bistro when I started as like, 'how have they done it for so long and it's still the place to go'. I'd be absolutely delighted if we could still be here in another 10 years and still have the same lovely customers and staff. That feeling of the constant is a good one. 

It's nice that we have an event programme too because we can respond to cultural trends in our events, but in terms of our food and drink offer and the values that underpin us, they are going to stay the same.
Finally, what do you think is special about Liverpool's food and drink scene?

Liverpool is a great place to do business, it's a really welcoming city and customers really champion you, they are up for a good time and the hospitality scene is really vibrant. It's a place where people say, 'yes', and things happen, everyone collaborates. 
I'm not sure that this [LEAF] would have really worked in another city, I'm not sure we would have got to where we have got to if it wasn't in Liverpool. It's all one big effort. People in Liverpool just like to have a good time.
Find out more about LEAF on Bold Street and their other venues across the city on their website here. www.thisisleaf.co.uk